Welcome to Zion National Park's little brother, Snow Canyon State Park. Criminally underrated and overlooked because of its proximity to Zion, Snow Canyon is a world all its own. Towering sandstone cliffs make you feel small, and rolling petrified sandstone dunes make you feel like you may have gone to a whole new planet.
This canyon has been the setting for several Hollywood westerns like "Butch Cassidy and the Sundance Kid," "Hondo," and "Jeremiah Johnson."
Just 10 minutes from downtown St. George, this iconic attraction of Greater Zion has activities and sights for everyone.
Things to Do in Snow Canyon State Park
Hiking
Hiking is the prime activity in the canyon. As soon as you drive in, you can quickly see why. Gorgeous red and white sandstone streaks, together with black lava flows spilling along the canyon floor, create a perfect playground for exploring on foot. Along with slot canyons to enter and lava tubes to explore, the sweeping vistas and overlooks might have you grabbing for your camera. You'll need more than one day to do a thorough job of exploring the park's 18 hiking trails. For more information on the hiking trails in Snow Canyon State Park and Greater Zion, visit our trails website.
Rock Climbing
The climbing in Snow Canyon State Park is mostly sport or traditional climbing with plenty of multi-pitch routes, going up to five pitches. There's easy 5.7s to challenging 5.12bs but the bulk of the routes sit in the 5.10 and 5.11 range. For a full list, visit mountainproject.com.
Petroglyphs
If you hike the Gila Trail to about the halfway mark, trail markers designate petroglyph sites. These illustrations, carved into stone by Native Americans, are delicate historical landmarks and are fun to examine.
Biking
Besides simply biking the main road through the park, two other bike-friendly trails exist. The first is Whiptail Trail, an out-and-back, paved path that runs from the south entrance and through about two-thirds of the canyon. Delightful for bikers of all experience levels, but the last quarter mile is steep. There's always the option to turnaround before this steep climb.
The second bike path is West Canyon Road. Once a road, as its name suggests, it is a dirt and gravel path. Beefier tires than those of a road bike are needed, but you won't need a high-end mountain bike to enjoy this trail. The road runs four miles up the canyon and takes the west fork at the end of the canyon that will lead you past the Whiterocks Amphitheater at the northern end. This path traverses parts of the park that no other trail will show or lead to.
Access the West Canyon Road at Sand Dunes picnic and parking area for an eight-mile round-trip excursion.
Horseback Riding
There are several trails open to horseback riding in Snow Canyon: Beck Hill Trail, Chuckwalla Trail, Gila Trail, Lava Flow (only between West Canyon Road & turn-off to White Rocks Trail), Rusty Cliffs, Scout Cave Trail, Red Sands (from West Canyon Road Trail to the west), Toe Trail, West Canyon Road, and the "equestrian trail" (starting at Johnson's canyon lot and running parallel to whiptail until the sand dunes lot, from here the trail parallels West Canyon Road). If you don't have your own horses, a guided experience is offered by local companies. Take a leisurely stroll atop an equestrian friend and soak in the views, floral and fauna and everything Snow Canyon has to offer the senses.
Canyoneering
Canyoneering combines hiking with rappelling, allowing exploration into slot canyons and down-climbing through the canyon. It's a unique outdoor adventure that doesn't exist in most places, but Greater Zion has lots of options. Snow Canyon has two canyoneering routes, both of which require an access permit. If you want to explore Island in the Sky or Arch Canyon, secure a permit through the state park's website or contact a guide company to take you.
Camping
A night or two under the stars is the perfect escape from a fast-paced lifestyle. Snow Canyon State Park is the ideal place to find those stars and quiet nights. The campsites will have you feeling like you're camping in the Flintstones' backyard with views of a cinder cone towering above and petroglyphs etched into rocks. Book one of 26 campsites.
When to Visit Snow Canyon State Park
Spring and Fall have average high temperatures of 80° and 73°, respectively, creating a sweet spot for active adventures at Snow Canyon. Summer can get pretty warm with very little shade available, but getting out early in the day is ideal. Winter packs mild temps and all activities remain available. Despite its name, the park rarely sees snow. (The park is named for Lorenzo and Erastus Snow, Utah pioneers, not the white precipitation.)
Nearby
Jump over a canyon and see the incredible outdoor Tuacahn Amphitheatre, located in neighboring Padre Canyon. With Broadway musicals May-October, and performances throughout the year, this canyon is also a must-see. Or shop their Saturday Market for local art, crafts, food and free entertainment.
Utah's only year round bike park located a few miles south of Snow Canyon. Catch some air on the dirt jump zone. Feel the rush of blazing along the pump track and skills loop. And test your skills on the gravity jump trails. It's 80 acres of biking paradise, designed for everyone from beginners to experts. There's no entry fee but it is a BYOB park, so don't forget your ride or rent one.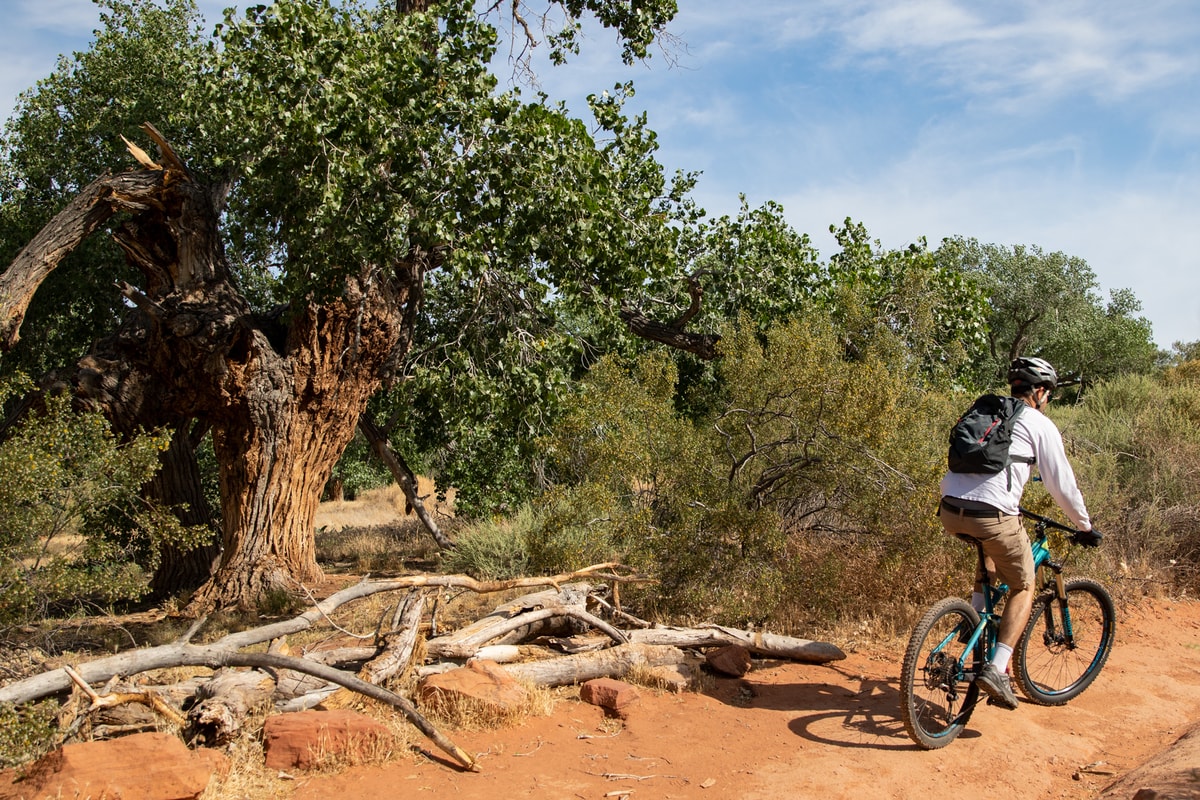 Gain quick access to a fun network of multi use trails for hiking and mountain biking along with classic, red rock, sport climbing less than 10 minutes from Snow Canyon. The trails lead to a jaw-dropping overlook above St. George and Ivins. Dog friendly trails, close proximity to town and stunning rock formations make this a must see spot on your Greater Zion trip.