Gunlock Reservoir and Gunlock State Park lies just far enough away from the hustle and bustle of the metropolitan areas of St. George. With incredible views and warm water, this remote lake is the perfect spot for a day in and around the water. Bring your own water toys or rent onsite.
This Utah State Park recently gained acclaimed with its waterfalls – an occasional and temporary occurrence when rain and runoff cause overflow of the reservoir. Although it doesn't happen every year, you're most likely to see it in late winter and early spring.
Things To Do
Paddleboarding and Kayaking
Thanks to the size of the lake and its more off-the-beaten-path location, this is a great spot in which to use paddleboards and open kayaks. Fewer boats make for calmer waters. Take off from the sandy beaches and explore all the popping-out-of-the-water rock formations. Bring your own water toys or rent kayaks, paddleboards, and water carpets from DIG Paddlesports onsite.
Boating in Gunlock
Gunlock may be the smallest of the three state park reservoirs in Greater Zion, but there's still plenty of room for speed boat activities and jet skis. Boat rentals can be obtained from local shops.
Fishing in Gunlock
There's also plenty of fishing to be done here. Take advantage of the cooler early mornings and late evenings when the lakes largemouth bass are more active and feeding. A Utah fishing license is necessary; a nonresident three-day permit is $24, and seven-day is $40.
Swimming in Gunlock
A generous portion of the lake is set aside just for swimming. For hours of enjoyment, bring a picnic lunch and set up a spot under one of the shade pavilions. Take a boat or kayak to the far side of the lake and jump off the fun rock formations. Parking is conveniently located right next to the water and pavilions.
Camping in Gunlock
Gunlock State Park offers the darkest skies of all the state parks in Greater Zion. Come wish upon a shooting star or bring your camera and tripod for some Milky Way photography that will make all your friends jealous. The campsites are primitive and on a first-come-first-serve basis.
Learn More
For more details on Gunlock State Park, visit their website.
Nearby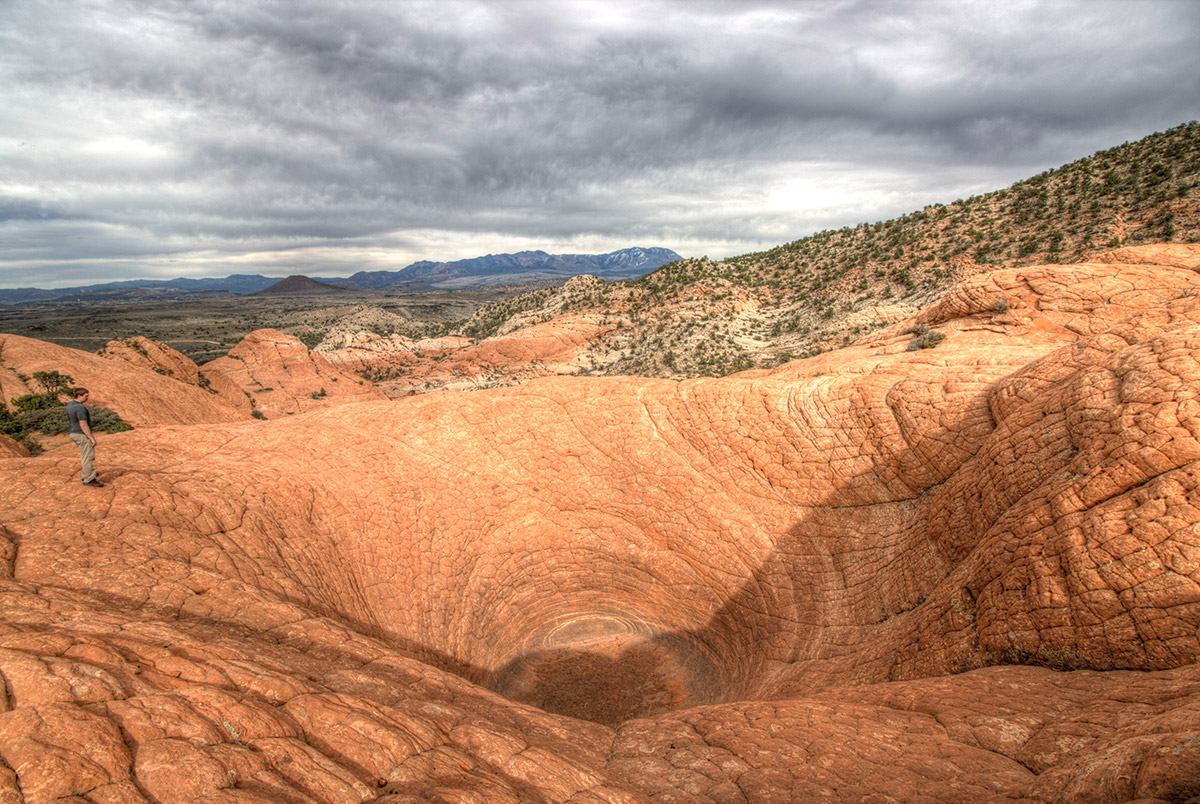 Only 11 minutes away from the lake, this hiking trail sweeps you away from the beautiful water into a world of red sandstone and strange rock formations. Large patchwork patterns on the sandstone surface give the appearance of scales on some giant dragon's back. Two large towers of stone with rounded tops sit adjacent to one another and look like a double-humped camel at the midpoint of the hike. The ultimate destination of the hike is a large, stone bowl that looks like a sinkhole, roughly the size of a small house.
This incredible village is set at the foot of towering red cliffs and is only 16 minutes from Gunlock. Grab lunch at their restaurant, Xetava Gardens Cafe. Drop in on painters or potters and see their genius creations coming to life, or pick up a framed photo of the area as a souvenir. With a handful of fine art galleries, arboretum and labyrinth, and other sculptures, there's lots of art to see here.